I post on this site infrequently, and I obviously use the availability of a blog even more rarely. I do this because I feel that I should not put my words on a conceptually ever-lasting canvas for all to read if I am not wholly confident in them. Unfortunately, I post this blog entry without the option to hold my tongue or not. Dennis Dodd, a writer employed and featured by 'cbssports.com', has written a repulsively aggressive and insulting piece that I cannot let slip by me. Ignorance is not meant to be overlooked, and nor is such juvenile anger and disturbing disdain as written by one who does so professionally, with no obvious goal of doing so without respect (CBS does not strike me as a company wishing to insult it's customers so blatantly). For the sake of bringing some kind of meaningful attention to this story, I write this blog entry to give this story a different avenue of reaching the customers of 'cbssports.com'.

While the piece is rather long, I would encourage you to read it all the way through. I'll provide both the link and a copy of the text itself, in case this story is removed from the site altogether. It has already been buried quite well. While the story is still up, I would also prompt you to read through the threads written in response, at the bottom of the page. Each individual post holds it's own validity, and bears reading. Upon review, it is overwhelmingly obvious that there has been no support for this story. The story is as follows...

http://www.cbssports.com/collegefoo
tball/story/11844867
Patrick Edwards would like to sue someone. It's just not clear who the target should be for the Houston receiver.
Is it Marshall University? Its band director? The band itself? The stadium manager? The game officials? His quarterback?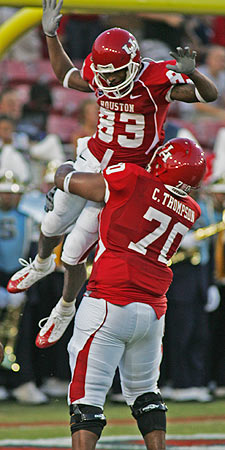 At the time of his injury, Patrick Edwards had 46 catches in eight games. (University of Houston) For now, Edwards is thanking God. He will be healthy enough -- or as healthy as 20-year-old athlete can be playing with a rod and screws inserted into his right leg -- to continue playing in the fall while he considers his legal options.
It wasn't just a compound fracture that Edwards suffered back in October in Huntington, W.V. It was a life-altering event. It was humiliating. Infuriating. It would be one thing if he broke his leg in two places while getting tackled by some foaming-at-the-mouth linebacker. It's another that he did it reaching for a ball while running out of the back of the end zone last fall.
Edwards was sprinting full speed when he ran into an equipment cart left behind the end zone. His right leg snapped grotesquely as flesh and bone met metal. (You can see it here. Caution, the video is not for the squeamish.)
To get an idea, try sprinting into a metal box on wheels with your eyes closed. Or call Johnny Knoxville. He'll show you.
"I haven't seen anything like it," said Houston trainer Mike O'Shea who has been in the business 36 years. "I've never seen anybody run into something that hard. The more you think about it, the more devastating it is. The amazing thing is he never takes his eye off the ball. Just like a good receiver."
That hustle almost cost Edwards his career. He barely missed injuring his left leg during the same mishap.
"I couldn't feel my [right] leg. It was numb," the receiver said. "I knew something was really wrong. I arrived in the ambulance and leaving the stadium I was thinking 'Who would leave a cart at the back of the end zone?'"
Edwards has gone back and forth, alternately blaming the school, game officials and the band. This being the American legal system, there's always the option of a lawsuit featuring a sampler platter of defendants.
We're actually kidding about the quarterback part. Houston backup Blake Joseph threw the pass that night and has been absolved. Meanwhile, the world continues to weigh in on Patrick and his mother Patricia.
• Houston hires new AD | Oct. 29, 2008: Edwards has surgery
"I thought I didn't have a son anymore, the way he flipped," mom said last year shortly after the injury. "I thought we had lost him. He could have been paralyzed or something."
The victim is conflicted. The day after the game, Marshall head coach Mark Snyder and a couple of Thundering Herd players came to visit Edwards in the hospital. Edwards got notes from all over the country wishing him a speedy recovery.
"Most," he said, "were from Marshall fans."
Clearly there is negligence on the part of some person or people. But is there room in this litigious society for something that resembles forgiveness? We'll see. At the time of the injury Edwards had caught 46 passes in eight games. Even after missing the final five games he ended as the team's third-leading receiver as a redshirt freshman. He led the team averaging 149 all-purpose yards per game and Edwards believes he was headed toward a freshman All-American season.
Even though Edwards expects to play this fall, the injury could ultimately be the difference in that tenth-of-a-second that keeps him off a pro roster. There aren't many aspiring 5-feet-9, 175-pound receivers able to survive the rigors of a pro camp to begin with. Even fewer come to their first workouts with a rod inserted into their tibia.
"I'm going to take legal action," he promised, "I'm going to wait until after the season to see how I come back."
This would not be a case of ambulance chasing. It's a made-to-order case for some enterprising lawyer.
"He has a case, no question in my mind," said one prominent Houston attorney who was eager to represent Edwards.
It should be noted that Edwards' recovery has been fairly amazing. Two weeks after the injury (and missing class) he was getting around on crutches. Two months later, he was jogging, drinking lots of milk and orange juice to build up the calcium in his bones. By March, Edwards was running with some of his old speed. He went through spring practice, staying out of contact drills. O'Shea says right now Edwards is the fastest runner in his group during offseason drills.
But how does he proceed legally? Marshall has been contrite. There were all those get-well cards. Athletic director Bob Marcum said the carts would be moved for the next game. They were.
"The blame is Marshall. They were band carts," Edwards said. "I was hearing that the officials were supposed to clear the field at halftime. I guess they overlooked the carts. I don't know."
• Dodd: Houston a BCS buster?
The band might be a good place to start because, well, they're the band. In general, band geeks are self-important and frequently out of tune. It's obvious to the rest of us, why not them? Led Zeppelin does not translate well to the trombone.
Quick band story: A reporter was running across the Rose Bowl turf a few years ago after a game trying to get back up to the press box. There was virtually no one in the stadium at that point except the reporter and the USC band. He tried to politely cut through their ranks to make it the shortest distance between two points. Instead, he was physically blocked by the band like this was some sort of big boy game of Red Rover.
They weren't budging and actually getting a bit pushy. Fortunately, some assistant band director came by and yelled, "Let him through," as if the tuba goons had pulled this type of macho crap previously. That's just what the world needs, a brass section with attitude.
Remember when being in the band merely meant you couldn't get a date? Then the likes of the Stanford band tried to make itself matter. Their antics were worth a chuckle now and then when they weren't getting run over by Cal players. Then they really got, uh, creative.
Some advice: If you think it's cool to urinate on the field then you've got issues that go waaaay beyond self-esteem band dork.
We bring this up because bands are part of the game's culture the same way as jock itch and concussions. For the most part, bandies are neither funny nor, unfortunately, dieting. If the Marshall crew had anything to do with Edwards' injury then Steve Barnett has some explaining to do. Barnett is in his sixth year as director of the "Marching Thunder." He told CBSSports.com he had been questioned "by a couple of lawyers" but couldn't comment any further.
"Any type of accident is unfortunate," Barnett said.
A band director's head on a platter, would that be enough for Edwards?
Let's think about the common good here. The NCAA has a student-athlete welfare committee. Just a thought, but it might be worthwhile at their next meeting to insert language somewhere about schools not allowing equipment carts anywhere near where elite athletes are sprinting at full speed.
In a way the injury almost draws the line between BCS and non-BCS schools. Can you imagine carts being left in the back of the end zone at Michigan? USC? Florida? This could have happened anywhere -- anywhere where they don't have enough room. Or enough money to build more room. This particular tragedy occurred in a 38,000-seat Joan C. Edwards Stadium, the 81st largest venue in I-A.
In the BCS, you're either big time or you're not. In the land of dorkness, there's another distinction to be noted. If you're parading around at halftime don't get too full of yourself. You're in the band, chief, not a band. Act appropriately and stow that French horn in a safe place.
Led Zeppelin thanks you.
"I'm not a mean person," Edwards said. "I'm a forgiving person. I don't hold any grudges [but] it was a band cart."
I do hope I and those who have posted on the story are not the only ones who feel that this story is rather out of line.